Did You Know?
Athletic prizes included bronze tripods, shields, woolen cloaks, and olive oil.
However, at the most prestigious athletic festivals (the Pan-Hellenic Festivals), the only prizes given were wreaths of leaves: olive at Olympia, laurel at Delphi, pine at Isthmia, and parsley at Nemea.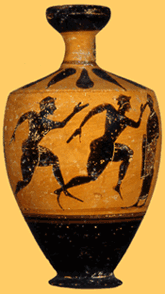 Attic Black Figure Lekythos, ca. 550 BC, depicting two racing runners. They are likely to be competing in either the stadion or the diaulos. The runners are flanked by either judges or spectators. University of Pennsylvania Museum Object ID MS739.
According to Phlegon, a Roman author of the 2nd century AD, the wreath of olive leaves was instituted as the prize for victors at Olympia in 752 BC, on the advice of the Oracle at Delphi.