Did You Know?
Even without Wheaties, ancient Greeks honored and even "marketed" their athletic heroes. As early as the 5th and 4th centuries BC the victories won by the athletes were widely celebrated. Poets were often commissioned to celebrate these victories with odes, and sculptors were employed to render an image of the victorious athlete. In addition coins were struck to commemorate equestrian victories.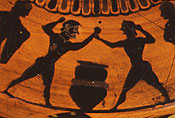 Panel from Attic Black Figure Hydria, ca. 530-520 BC, depicting a boxing contest (pugme) in which two boxers fight to either side of a stack of bronze cauldrons which are likely the prizes for victory. University of Pennsylvania Museum Object ID 51-32-1.
Poems for Athletics early jingles? Pindar, the famous 5th century BC Greek poet, wrote an ode to celebrate the victory of Hiero in the horse race at Olympia in 476 BC. It begins:
Water is preeminent and gold, like a fire burning in the night, outshines all possessions that magnify men's pride. But if, my soul, you yearn to celebrate great games, look no further for another star shining through the deserted ether brighter than the sun, or for a contest, mightier than Olympia where the song has taken its coronal design of glory, plaited in the minds of poets as they come, calling on Zeus' name to the rich radiant hall of Hiero.
Olympian 1 (translated by Frank J. Nisetich)
Odes such as this one were commonly commissioned by an athlete, an athlete's family or a rich political leader to commemorate an athletic or equestrian victory. In the case of Hiero, the athlete and the rich political leader were same person!